The Saturday my parents were here Leon and I took them up to Edinburgh for the day. We enjoyed walking around the beautiful city. I think it's one of my favourite cities. And because it was such an interesting place to be, Minnie Moo decided to tag along.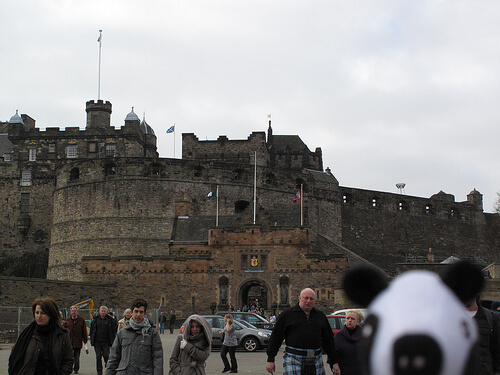 Minnie Moo at Edinburgh Castle
One of the first things we did was make the obligatory stop by the Edinburgh Castle. I've never been inside… it's too expensive… but the outside of the castle is pretty impressive.
After a quick pass through the Scottish National Gallery, we stopped for lunch at Princes Street Garden. It's gotten so pretty on the verge of spring!
It was then off down the Royal Mile to the Edinburgh City Museum and to see the Palace at Holyrood (the Queen's summer home).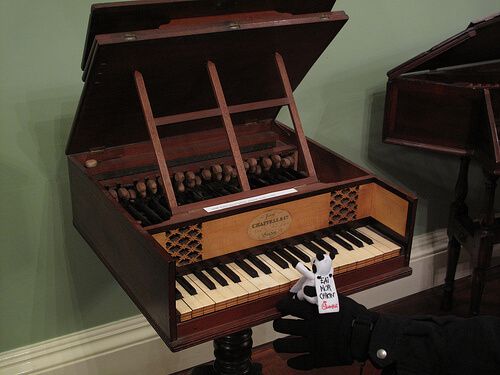 Minnie tried to play one of the clavichords
We went to St. Cecelia's Musical Instrument Museum, part of the University of Edinburgh. There they have all kinds of stringed instruments from pianofortes, to clavichords and harpsichords, to zithers and lutes. They gave us listening devices so we could hear examples of the instruments. However it was far more interesting to ask the student on duty questions… then he would not only answer our questions, he would play some of the instruments for us! Definitely my favourite museum in Edinburgh.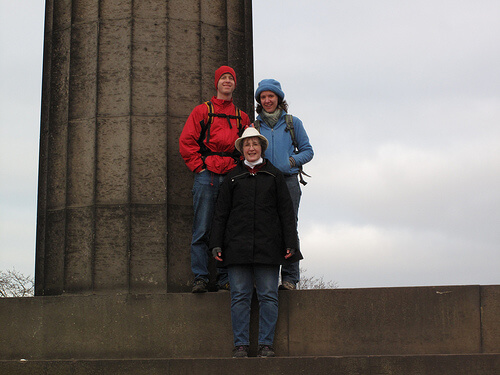 Leon, my mom and I on the acropolis
We then took a walk up to Calton Hill, one of my favourite places in Edinburgh because the views are just breath taking. A view of just about everything in the city can be seen from the top of this hill. Of course the Acropolis is pretty interesting, too.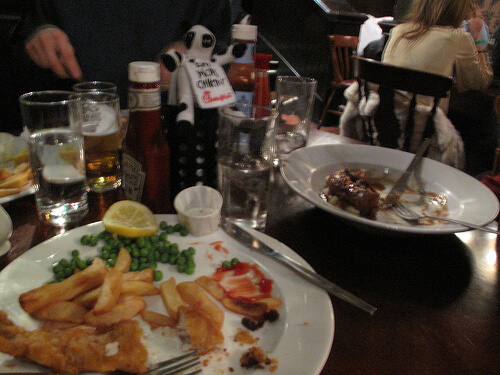 MInnie had Fish and Chips
By this time we were cold and hungry. So it was definitely time to find a pub for a cup of tea and a good British dinner. (I think it was a bit of a cultural experience for my parents to eat dinner at a pub. :] ) Finally, after dinner we caught the bus back to the car park and headed back home.
What a good day in Edinburgh! :)