We cycled half-way across England last weekend. That's no small feat. We stopped half-way through our journey to return home. This decision happened because we hit a really strong headwind, and I couldn't go any farther. We now think I have asthma; I went to the doctor and he's now having me do some tests.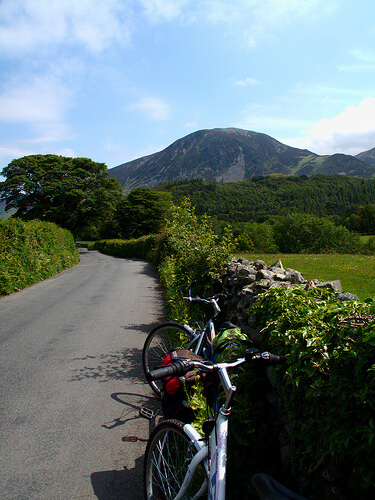 Cycling through the Lake District last weekend
When we made the decision to stop our cycle ride and continue it on another weekend, we both had peace with it. Perhaps I think too much, but now I find I'm beating myself up over the decision. My perfectionist nature tells me that I should have been able to make it. We did several practice rides, and I cycle and walk to get anywhere in this city. Yet that didn't prepare me for the mental struggle and the physical exhaustion that would come with this cycle trip from coast to coast.
Am I a fool for doing something I couldn't do? Do you think I'm a fool?
Maybe I am. At least that's what my inner perfectionist is telling me. It really was OK to turn back when we did. I may have lost the battle, but I haven't lost the war. That's what Leon told me the other day.
The truth is, this is one of those times when I need to let myself off the hook. I beat myself up when things I do don't turn out the way I imagine them to turn out, especially when I fail. I lost the battle: big deal. We still have the chance to finish our ride later this summer. I haven't lost the war.
Then I was thinking. I should give it to God anyway. I was reminded of a verse that says the battle belongs to the Lord.
Thus says the LORD to you, 'Do not be afraid and do not be dismayed at this great horde, for the battle is not yours but God's.' 2 Chronicles 20:15
And it's true. The Lord goes before us in all we do. He will never leave us. You haven't lost the  battle… it belongs to God.
(This is in response to a Reverb11 prompt)