Leon and I are still considered newly weds. Or at least I think we are—we've been married for just over a year. We haven't had enough time together to form many holiday traditions. In fact, I'm not certain if we have any traditions yet. I've been more of the one for holiday traditions than Leon so it's been a challenge for me to find meaningful things to do for Christmas. For someone who thrives on routine and tradition, it can be a difficult to not have traditions. I realise these things take time, and this year it's been better.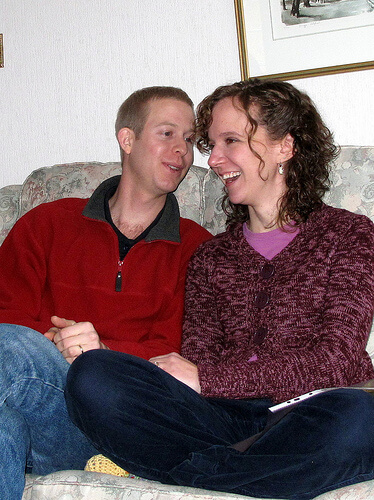 Us on Christmas last year
One tradition I carried over from my own family is the Christmas lasagne (that we'll be having on Boxing Day this year). My family growing up would often have lasagne for Christmas dinner instead of the normal turkey or ham.
Do we really need traditions anyway? Some, yes… as long as we understand the meaning behind them. Other traditions, I think, tend to distract from the real reason we celebrate Christmas. So in some ways, not having many traditions as a couple yet kind of helps us focus on Christ's birth and the reason He came to this earth. It's far better than getting caught up in tradition!
Are you steeped in tradition this holiday season? Does it help or hurt you? (Today's prompt is by Diana Prichard)


Happy Christmas everyone! Hope you have a blessed holiday celebrating our Saviour's birth! 
I'll probably take a few days' break from blogging to spend time with Leon and some friends. I'll be back to writing sometime next week.