To be honest, I'm not much of a gift giver. I don't receive gifts very well either. It's awkward. I appreciate the thought behind the gift, and I'll gladly receive and give gifts. I always struggle with giving gifts. Christmas gifts, for example: I quite often dread having to buy a meaningful gift for even a family member because I'm just not good at intuitively finding gifts that suit a person. I think I've done that once in my entire 28 years of life… several years ago I bought my dad a satellite radio for Christmas, and it was a hit for several years after that!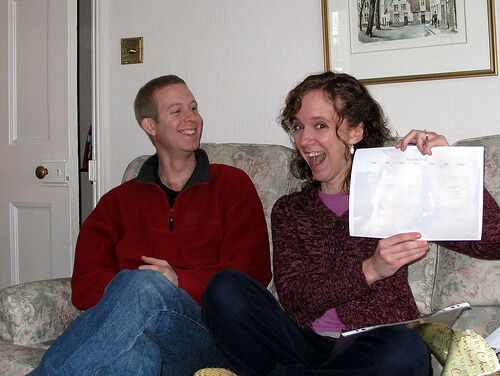 Leon and I on Christmas last year. He made me a calendar to plan my menus (it had photos of us on the background)!
I realise that giving or receiving "gifts" doesn't just include things that are tangible. For me, quality time is much more meaningful than any tangible gift. It's probably my favourite gift I received (and gave) this year. Quality time is part of what helped me get through my first year in England. Yes, I spent time with my husband of course, but it was spending time with others from OM and church that really helped me to connect and begin feeling at home. It's such a blessing!
What was your favourite gift given and/or received in 2011? (Today's prompt is by Besottment) Yes, I know I skipped day 5. I promised myself I would leave room for other posts if I need/want to. Last year I missed writing about my "normal" things while Reverb was going on, so I'm taking a slightly different approach this year.