When I left the profession of teaching over 2 years ago, I was sad but wasn't regretting the decision. I wasn't going to be a teacher anymore. I was going to go back to school, get a 2-year degree, and start over from scratch, forgetting that I was ever a teacher.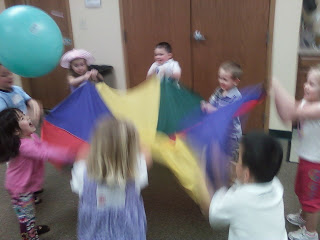 My former 3 y/o Sunday School class playing with a parachute
Except I never really stopped calling myself a teacher after that.
I continued serving in my (then) church's children's ministry until about 7 months ago.
Sure, I tell people I managed a Copy Center for Staples prior to getting married and moving to England. But I was also a teacher, and it's a big part of my life.
And no matter how hard I seem to try, I can't get away from being a teacher at some capacity. I'm not really complaining—I'm just making an observation. I babysit. I help with Sunday Schools. I have a heart for children's ministry.
Maybe the Lord is trying to tell me something…
This post is the start of the A to Z blogging challenge. I decided to participate because I haven't blogged enough lately (partly due to the fact that my computer has been down for the count). I'm hoping this little challenge will help me to get the ball rolling again! I've missed blogging, and I love it!