Last Saturday, Leon and I had the joy of taking the Calvin students who are visiting our team to Edinburgh to show them around. It was a lovely day, with almost perfect weather… the only problem is that it's always cold in Edinburgh. I was happy because it was nothing like last year's (rather rainy) trip on which we took another group of students to the Lakes.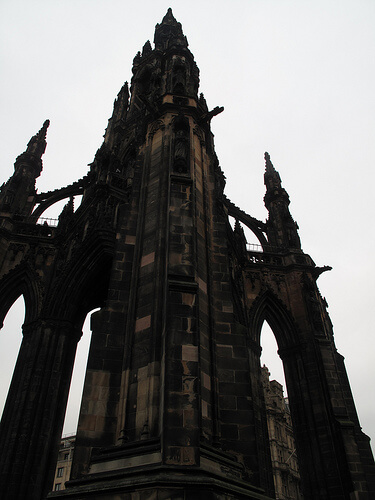 Sir Walter Scott monument
We arrived at Waverly Station and began our trip with a general tour of the city so the students could get a feel for where things are and decide what to do. We walked by the Sir Walter Scott monument, the National Gallery and ended up by the castle. From here, most everyone decided to go their own way to explore. Leon and I had about 4 people decide to stick with us for awhile.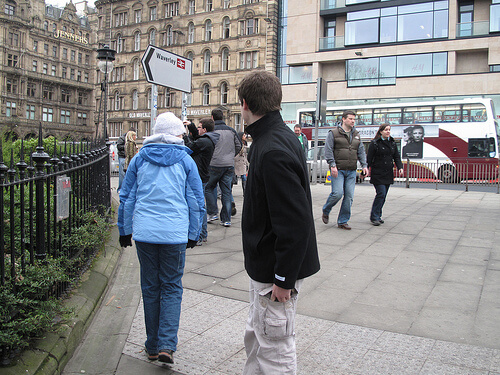 We're here! Ready to take on Edinburgh…
We made our way down the Royal Mile to one of our favourite places, the Edinburgh City Museum. Then it was a brief stop at Holyrood Palace (one of the Queen's homes) before lunch. After meeting up with the same group of 4 after lunch, we visited the Scottish Parliament. We would have gotten a tour of it, but had sadly just missed the tour before the rest of our little group came back. The building was actually fascinating! We even got to see the debating room. Leon and I both decided we'll have to come back and take a tour next time.
After our visit to Parliament, the rest of the guys with us decided to take off on a walk up Arthur's seat. Leon and I continued to the National Museum of Scotland where we would take a break before meeting everyone else for dinner (all the walking up hills isn't much fun for me now at 31 weeks pregnant) at a neat little pub called Shakespeare's.
After dinner, it was off to the train station to return to Carlisle. Some of the students said that Edinburgh was the highlight of their trip so far! I'm glad. :)