This Christmas was our first as a married couple. Sentimental? Yes, but it was also emotional. It was my first Christmas away from my family and close friends. I discovered the first Christmas without family was a bit like grieving the loss of a loved one. I have to admit I wasn't expecting that.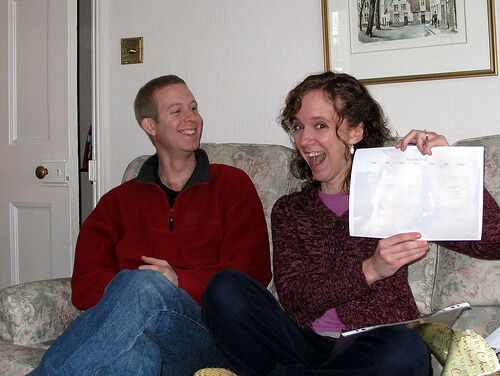 I really like my calendar. :) I think Leon's relieved he made
a good choice!
But God is gracious and blessed me with a loving husband and a couple of new friends this Christmas. We spent Christmas with a friend of ours who lives on the northern side of London. We definitely had a lovely time.
We started out the morning by going to a Christmas service at our friend's church. It was a bit different for both Leon and I because neither of us had really gone to Christmas services going up. It just didn't happen in our families.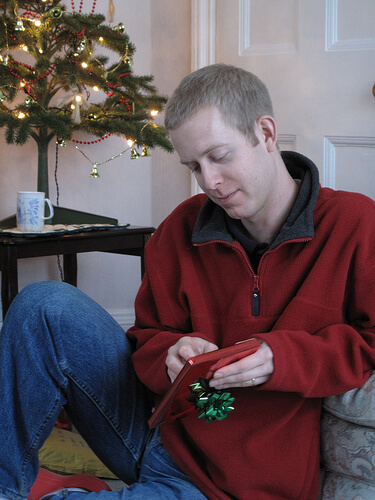 Leon takes a long time to open his gifts
After church we walked back to our friend's house for a cup of coffee and opening presents. It was an honour to share our first Christmas with our friend. We enjoyed smiles and laughter as we opened our gifts. My favourite and most memorable gift is the calendar Leon gave me. It was one that he designed himself with photos of us from the past year. He made it so I could plan our dinner menus more easily. :) Sometimes the best gifts are priceless.
Our friend had also invited a Scottish couple around for the Christmas meal. We had a lovely time getting to know them over an English Christmas meal of turkey, roast potatoes and parsnips, carrots, brussel sprouts, and bread sauce.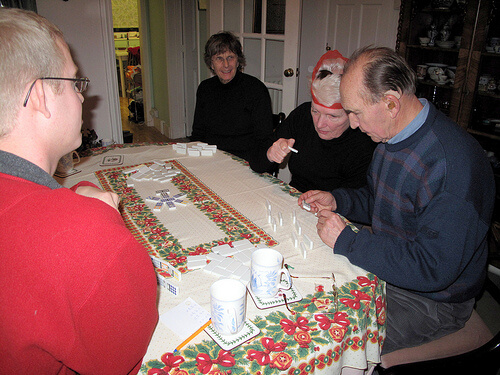 An exciting game of Chickenfoot!
After dinner was all cleaned up, I got to teach everyone how to play a domino game I have played in my family for years—Chickenfoot! It's been a few years since I've played Chickenfoot, so I was a bit rusty on the rules. It was still good fun, and of course, Leon won!
Overall, I was blessed this Christmas. And God gave me lots of grace to sustain me through what would have otherwise been a really difficult time.
Well I said this was a Christmas of firsts. The other firsts I experienced were a trip to London, and celebrating the New Year on the Thames. I'll share about those stories on a later date! :)