How did you travel in 2010? How and/or where would you like to travel next year?
This past year has added an entirely new dimension to travel that I've never experienced before. Travel has taken me loads of places all around the world, believe it or not.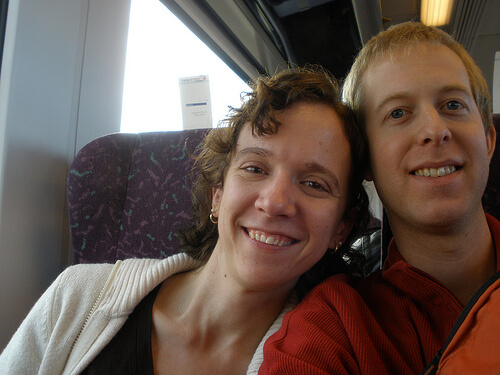 On the train from Manchester to Carlisle in February—
Leon surprised me and met me at the airport!!
In February, I travelled across the Atlantic Ocean to England for the first time. I was visiting my boyfriend (now husband). We did all kinds of sight-seeing and such. My first international experience was so worth it! I did learn, however, that a lady travelling alone is apparently suspicious to border control. Be prepared with the right answers. :)
I travelled to Wisconsin in June. My roommate and I were going there to visit another roommate of ours who had moved away for the time being. We felt it our loyal roommate duty to go be there for her. It was a very challenging and difficult time for all of us, but I'm glad we went.
After Leon and I got married in August, we hit the road on furlough. This is what truly made me realise that travel isn't all glamour like it's made out to be. Now that we're in England, it's nice to be in the same bed every night! We spent the first 2 months or so of our marriage travelling around the US to raise financial support (we're missionaries). This sort of travel is exhausting emotionally, physically and spiritually. I found it to be heart-wrenching at times, and it truly tested our faith in the Lord on many levels.


Travelling this year has allowed me to stretch myself and my comfort zone. When Leon and I got back to England, it was off to Belgium for a week of teaching (for Leon). I was left to find my way around on my own. It was not a comfortable thing for me to get on a train and travel into Brussels on my own—especially in a foreign country where everyone speaks either Flemish or French! After Belgium, we had a holiday in Holland. That was enjoyable. I will say with all this travel, I have enjoyed experiencing different cultures. It was a bit of a shock to come back to England and finally see signs in English again after seeing them in Dutch, Flemish, or French for so long!


Before getting married, my husband's work took him to places all over the world. This past year my heart went with him on these trips. In a sense, I as well travelled with Leon to Singapore and India. I wasn't there in body, but I still felt like I was there at times! Such a strange and wonderful experience.


In the coming months, I actually won't be doing any travelling. We have sent our passports off to get visas renewed so we can't leave the country. Who knows what's next for me (us)?


Right now, I'd give anything to be some place tropical. It's unseasonably cold in Carlisle!!