The last weekend in January, Leon and I took advantage of a gloriously sunny Saturday morning and finally went walking in the Lake District. It was still a bit chilly (0-2º C), but it was otherwise the perfect day for a walk in one of our favourite places in England.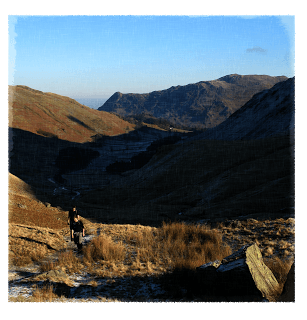 The view from the climber's lodge
This time we started in Patterdale and headed toward Dollywagon Pike. It was a long walk until we actually began to make the ascent up Dollywagon Pike. After a quick water break at the climber's lodge, we continued. After walking awhile, I realised again why I don't use my walking boots that often. My ankles started to hurt.
Now, when you're looking to go walking in the Lakes, "they" say that boots are the best because of the ankle support. Hmm. Some support they give if they leave my ankles sore and bruised at the end of my walk. Leon has this same problem.
We pressed on. I wanted to get up to the ridge because Leon had never made it up there in the past, and I wanted to see the views. However, the longer we walked, the more challenging it became because the more my ankles hurt. Being stubborn, thought I could continue even though the pain became greater the longer I walked.
Finally, Leon, being the wonderful hubby that he is, asked me if I wanted to continue or go back. Really? He asked me to make this difficult decision? I wanted to finish the walk so I could have a sense of accomplishment; I also wanted to finish so that Leon could finish it, too. So finally due to my stubbornness, my dear husband made the decision to go back to where we started. We got half-way to our destination and had decided to turn around.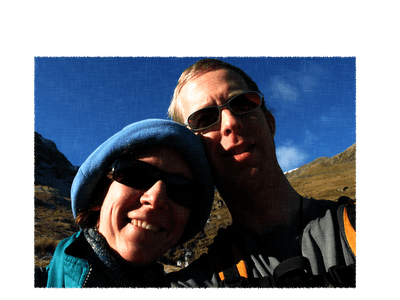 Us enjoying the sunshine on our trek back
There was another footpath different from the one we took on the way out. We had a lovely walk back to the car in the sunshine. I have to admit the sunshine made that pat of the journey much more enjoyable. We had some pretty good conversations on the way back, too.
At first I felt defeated. But then again, sometimes the best lessons are learned from having to turn back a bit. Just like in real life, we sometimes have to backtrack so God can work in our lives and tallow us to seek after Him more and more.