Much of the wedding planning is well under control. We are now focussing much more on getting a visa for Chrysti to come to England. We can begin getting all the documents gathered, but can't make the application for her visa until we are married. We are also in the planning stages for our furlough to raise financial support so that we can return to the UK together as a couple.
I started this blog post before I went to India and had intended to finish it shortly after my return if not while I was there. Well plans change and my health was not as it could have been. We are now both now compiling lists of potential supporters and lists of supporters who could possibly increase their support. Some emails have been sent out and follow-up calls should be forthcoming.
Some of what I was going to say Chrysti has already posted in her blog post. We were thinking along similar lines (which is good since we are getting married) and she beat me to the posting of those thoughts.
Prior to our marriage I only needed about $1150 per month for all my expenses. I needed to increase that support this year due to increasing expenses overall to $1300. But now that Chrysti and I will be married our expenses slightly more than double to $2950 per month. Then we have one time start-up costs of around $4000. So God has his work cut out for him. We have already received some pledges of increased support but still have about $1700 to raise per month plus start-up costs.
This verse was recently shared at our office devotions here in Carlisle. It has taken on a whole new meaning to us.
"Trust in the LORD with all your heart, and do not lean on your own understanding. In all your ways acknowledge him, and he will make straight your paths."
(Pro 3:5-6 ESV)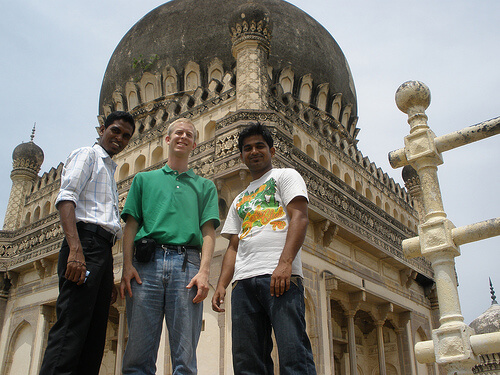 Photo from working in India last month