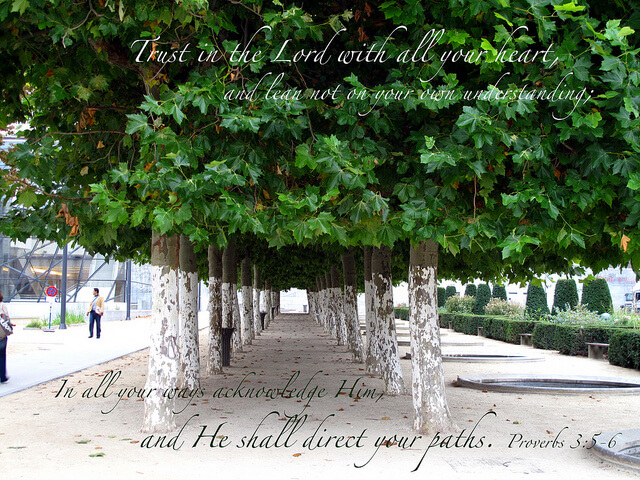 A beautiful row of trees in Brussels
One of the lessons I'm constantly learning is that life is more about the journey than the destination. I learned that lesson yet again yesterday, and I enjoyed every step of the way.
After meeting my husband for lunch, I had a rather difficult moment in the day. I was feeling so discouraged that I just wanted to go home, rather than cycle out to a furniture charity shop to look for a bed for us (we need a new bed). Thankfully my loving husband, knowing I would otherwise go home and pout, encouraged me to go anyway–he said I'd probably enjoy it.
Well, I set out on my trek to the charity shop. It was a bit windy yesterday, and I found myself struggling to cycle into the wind. I told myself that I'd make the decision to go home or continue once I got to my turn off. The wind died down slightly at that point, so I persevered down Scotland Road. While cycling up the hill, the wind picked up again (I should add that at most points on this journey, I felt like a leaf being thrown around in the wind as I was cycling down the road). I once again said that I would turn around if the wind didn't die down by the time I got to the city centre.
Need I say that the wind died down long enough for me to keep going? By this time, I found myself praying to God, "Lord, what are you doing to me? I can't do this. I'm not strong enough. It's too windy! Besides, I'm an emotional mess." And yet I heard God say, "Just trust me. You can do this. Keep going." And so I did. I made it as far as Carlisle Castle… I could get to my destination.
In thinking about how discouraged I was feeling about life and about this cycling trip, I felt God telling me, "Chrysti, you can do it. You are stronger than this." That was what I needed to continue. Stick it out, rain or shine. I'm strong with the Lord's help, and I can persevere. Suddenly it didn't matter if I arrived at the charity shop and didn't find a bed. It was more just a lesson in relying on God for His strength.
Sure enough, the charity shop didn't have the bed I was hoping for. But I was perfectly okay with that. God brought me on a journey yesterday… to teach me it's more about the journey than the destination.
"Therefore do not cast away your confidence, which has great reward. For you have need of endurance, so that after you have done the will of God, you may receive the promise…"