My bread machine makes jam. Yes, it's true.
When I got a bread machine for Christmas last year, it was exciting. I'm certain I haven't bought a loaf of bread from the store since. What I wasn't certain about was that it could apparently make jam. Could I really toss all my ingredients into this bread-making machine and it'll make jam?
At the beginning of the year, I wanted to try making jam in my bread machine, but I was too pregnant and not bothered. A couple of weeks before Asher was born, someone gave me some pectin. Knowing that I certainly wasn't going to have time to make jam when the baby came, I put it aside until last weekend.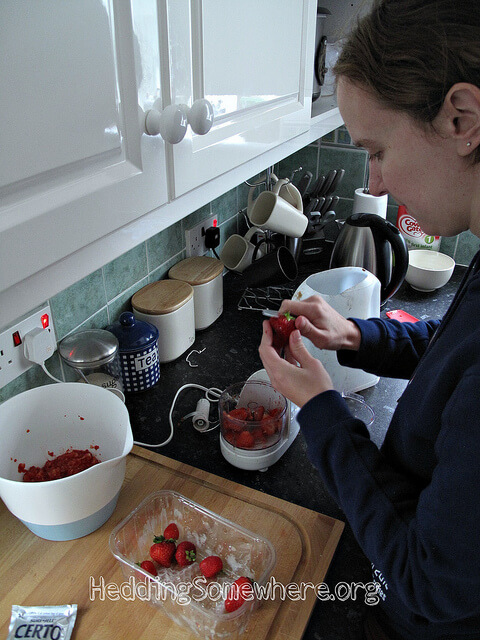 The grocery store around the corner from us had a bunch of fruit on sale. Most fruit you buy in the store in England is imported, so in general it's pretty expensive. It was a treat to find it cheap enough to give a reason for buying a ton of it to freeze! I seized the opportunity and bought a bunch of peaches, blueberries and strawberries. Last year I froze all the strawberries and blueberries I bought. This year we froze some peaches, too, so that I could have some to purée for Asher when he starts solids. With some of the strawberries and peaches I decided to try to make jam!
I'd pinned a couple of recipes on Pinterest awhile back to try: one for strawberry jam; the other for spiced peach preserves. Both recipes called for low-sugar pectin, which I didn't have. I think that was part of the reason I had to use an entire sachet of pectin for both recipes. Leon and I also figured out we needed to run the jam cycle twice in order for it to set a bit more (otherwise we would have ended up with a lovely sauce!). It still wasn't as thick as I would have liked… maybe that's the nature of homemade jam?
Both still taste delish!
Have you ever tried to make jam? What have you made? Have you tried to make it in the bread machine?