Last year I participated in a blog writing challenge called #Reverb10. If you followed this blog back then, you may remember the reflection posts I wrote every day during the month of December. It consisted of a daily writing prompt intended to help participants to reflect on the year. It was a lot of work and quite a challenge to write a post every day for 31 days, but it was also well worth it. I enjoyed reflecting on my year and making plans for the next year.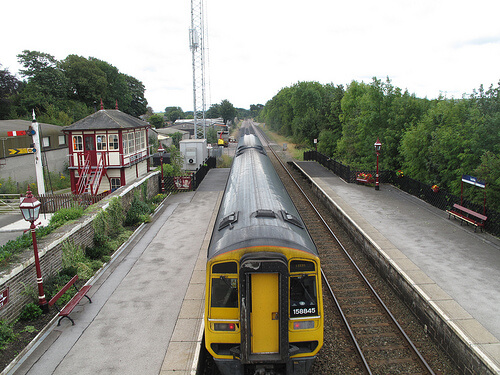 Looking Back: Watching the train leave Settle, England
Well, this year I was really looking forward to another such challenge. Much to my dismay, I received an email today saying that Gwen Bell, the creator of it all, decided not to do it. How sad. But Gwen also encouraged readers to come up with our own writing prompts and even host our own challenges if we want.
All this is to say that I'm still going to participate in my own way. I plan to borrow prompts from other people who are participating in #Reverb11 this year. I would come up with my own, but having just gotten back from the US yesterday (and still slightly jet lagged), I didn't really want to. I may come up with my own prompts occasionally, just to spice things up!
Will I be posting every day for the month of December? I don't know… I still have other things I want to write about, so I will make certain to leave room for those, too. :)
Please join me in my endeavour to reflect on 2011! You can use the prompts I post, someone else's or come up with your own! Share them with me in the comments!