As my old college friends, their husbands and children gathered for Thanksgiving dinner on Saturday, the question was asked at the dinner table, "What are you thankful for?"
Not many people responded, except to be facetious and offer thanks for all the good food. I wonder if that was because everyone just wanted to eat or if there was another reason. I don't really know, but I was finding it a bit awkward to say what I'm thankful for.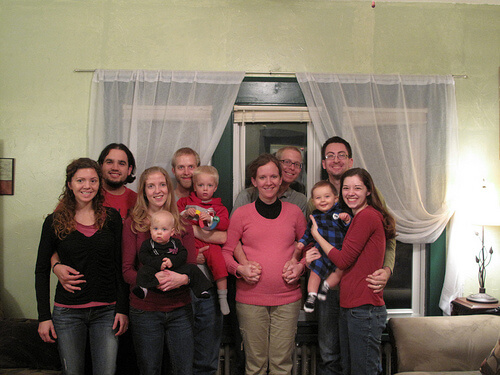 Friends from Hope College and our families
Since then I've thought about the question. Sure, I'm thankful for a lot of things. I could list them all right here for you. At the same time, I find it hard to be thankful. It's hard returning to England from home assignment with a lot of follow-up work to do once we get back. It's a struggle to trust in God's provision in an economy that doesn't leave much room for giving to ministries such as ours.
But at the same time we do have a lot to be thankful for because God has provided a lot of opened doors that weren't opened before. We've made new acquaintances. We've continued relationships and visited friends and family. I'm thankful for God's goodness in our struggle…
Most importantly, I'm thankful for what Jesus did for us on the cross. It's easy to forget that at the end of the day, no matter how difficult the challenges the day may bring, that God is still on His throne, Christ died and rose again, our biggest problem (sin) is taken care of, and we can now enjoy eternity with Him in heaven. Now that's something to be thankful for!
Somehow remembering that puts everything else into perspective and makes it seem less important.
What are your thoughts on being thankful in difficult times?