I've been contemplating starting a post that I would write every week consistently. I thought it would be nice to have a weekly post like this to keep me posting and because we are usually busy on the weekends, giving me something to talk about.
Now, ideally, this post would happen on a Monday… but alas it didn't happen. I guess as long as it gets posted before the next weekend! :)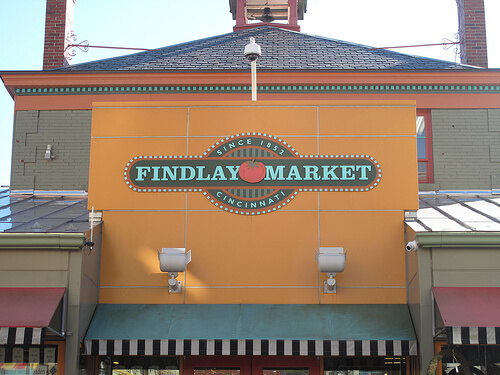 One of the entrances to Findlay Market
Last Saturday, we went to Findlay Market in Cincinnati. I have been here before several times, and have wanted to take Leon because the public market has a bit of a European feel to it. During the summer months, they have a farmer's market as well as vendors indoors who are there all year long selling fish, poultry, ethnic food, flowers, cheeses and so much more. My favourite vendor is the Belgian waffle shop… The guy who runs the place is from Belgium and serves "authentic" Belgian waffles (and crepes, too). Yum! Sadly, we didn't have any money with us so I couldn't indulge myself in one.
We definitely enjoyed ourselves just wandering around the market on such a beautiful day!
 
Perfect day to go to the market!
What did you get up to last weekend?