I'm sure I'm not the first to admit that God works in lives today. Ours is one of them. It has been the desire of my husband and I to allow God to work in our lives in such a way that others can see it. Our prayers have certainly been answered in many amazing (and sometimes uncomfortable) ways.
He brought us together across the ocean to fall in love and get married. He provided a way for me to get back to Kentucky in a timely manner to testify in federal court before we returned to England. He miraculously allowed us to get in at the British Consulate General to get my visa changed just 3 hours before we left for England—Even the security guard at the Wrigley Building agreed that God was on our side that day.
God worked in our lives once again this weekend when we were surprised by the doorbell at 08:00 on Saturday. Who could have been at the door this early? Leon had to sign for a parcel. Could it be our passports with our visas? Fear filled my mind… well, they could have renewed our visas and granted us permanent residence. But what if they didn't? We would soon be packing up our entire lives and figuring out how to get back to the US.
I quickly finished showering so we could open the parcel together. Two passports fell out. Mine was opened to a page that had been altered. On it was a "residence permit." Leon read a letter that stated we had indefinite leave to remain in the country.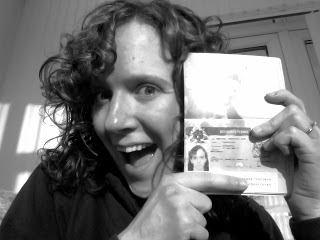 I can't believe we got our visas!! :)
Oh. My. Word. We have been granted permission to remain indefinitely! Praise God! Visas, as I know them, are quite often the bane of missionaries' existence, and we now no longer have to worry about it as long as we stay here! Incredible. Thanks, God! The glory belongs to You.
"Not unto us, O LORD, not unto us,
 But to Your name give glory,
 Because of Your mercy,
 Because of Your truth."  Psalm 115:1 NKJV
Leon shared our testimony in church on Sunday, and afterward a friend encouraged us. He said it was so encouraging to see how God has been working in our lives. I'm so glad God allows others to see what He's done in us. Quite often it's a dangerous thing to pray that God will be seen radiating in our lives. And where He leads us isn't always easy. But the results are so worth it, and others are blessed because of it!
"But as for you, you meant evil against me; but God meant it for good, in order to bring it about as it is this day, to save many people alive." Genesis 50:20 NKJV