Trying to come up with just one memorable moment from 2011 isn't easy. I could think of a handful of memorable moments from 2011.
I could write about ringing in the New Year in London.
I could write about spending our holiday on a beach in Spain.
I could write about my parents coming to visit Carlisle for the first time.
But if I had to choose just one moment that I'll never forget, it would be this one: Seeing our little one for the first time (via ultrasound).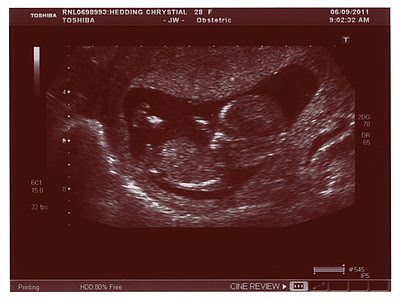 "Little Bump" at 12 weeks (in September of this year, he/she is a lot bigger now!)
It's an incredible thing… seeing this baby growing inside me. To think that God has allowed this to happen, that He created this little one for a purpose! This little one, who we affectionately call "Little Bump" for the time being, is created in God's image. And I get to bring this little one into the world. What a blessing!
For you formed my inward parts;
you knitted me together in my mother's womb.
I praise you, for I am fearfully and wonderfully made.Wonderful are your works;
my soul knows it very well. Psalm 139:13-14
Tell us about one moment that you lived in 2011 that you will never forget. (Today's prompt courtesy of Geekin' Hard)