It's probably easy to say that British mystery stories are usually a big hit. Just look at all the murder mysteries that have been pretty well known: Inspector Morse, Poirot, Miss Marple, Sherlock Holmes… you get the idea.
So it was pretty fun to attend and participate in a murder mystery dinner as a fundraiser for our church's youth group! The title of the murder mystery was called "Movie Con(vict)"—the premise was a bunch of famous people, actors, photographers, bloggers, etc were attending a movie themed convention, mostly to promote a new film called "Atlantis." But… Some people were murdered!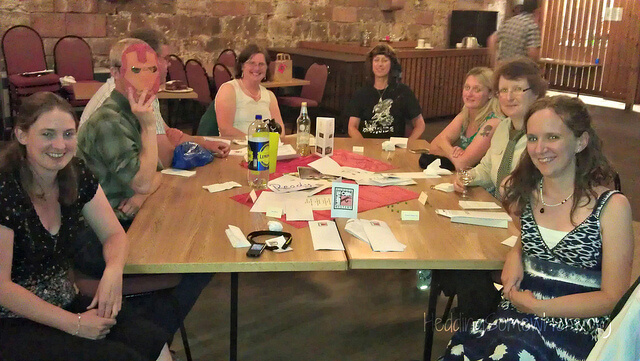 So everyone in attendance was assigned a role to play as a suspect in the mystery. Over dinner, using a script as a guide we had to discuss, challenge and question those at our table in order to figure out who the murderer was.
Now it's probably a good thing I'm not really an actress because I felt like I didn't do a very good job (because I didn't read my script well enough). I got to play the role of the undercover CIA agent. It was a fun role, but I couldn't convince the rest of my table that the information I knew was classified!! Oh, well. At least I wasn't the murderer! I was there impersonating one of the actresses also in attendance. Leon was the actor who played Ironman.
In the end, over a lovely three-course meal served by the Kings Church youth, the mystery was solved, and the murderer was convicted! Although our table somehow missed some clues and didn't actually quite figure out who the murderer was… Ah, well. That's why they do recaps of each section I guess!
I know that I've done a murder mystery dinner like that before, but I can't remember how or what happened. So I count this as my first. I'd say it was fun… although maybe I should attend another one to make certain. :) Leon and I both do enjoy a good mystery! And the youth did a great job hosting the murder mystery dinner… including Rachael, who wrote the whole thing!
Do you love a good mystery? Have you ever attended a murder mystery dinner?