at Hans & Desi's wedding
We had a lovely weekend. Saturday Leon and I had the opportunity to travel up to Iowa to attend the wedding of Hans and Desiree. It was a lovely wedding–very laid back and casual. I'm so happy for the newlywed couple! It was nice to be able to catch up with and meet friends of Leon's while we were there as well. We've made some connections for the future as we continue in our support raising. Plus it was our first wedding to attend since we've been married, so I was being a little sentimental. After all, we have now been married for one whole MONTH!!
Sunday was a lovely day of rest. We attended a church who supports us and shared about our ministry with them. Hopefully the Lord has used us to encourage the people in attendance towards missions!
After church, we enjoyed lunch in the back garden at Leon's parents'. It was nice to have the place to ourselves for the weekend while they were camping! Leon grilled some brats up, and I made a salad. After cleaning up from lunch, we found some towels and took a nice nap outside as well since the weather was absolutely gorgeous! What made it better was the tree we slept under has started to change colours already. :) I love the fall.
Later that afternoon, we took a walk over to
Lucas and Melissa
's place. We had a nice time there, chatting, playing with our nephew, eating dinner, and playing
Sequence
. Leon and I played on a team together, and somehow won all 4 games we played! I will admit I enjoy having Lucas and Melissa as my brother- and sister-in-law, but it is odd at the same time because I've known them both as friends for awhile prior to marrying my husband and now they're family. :)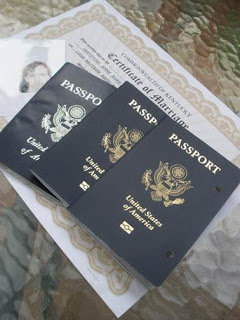 Passports, marriage certificate, and photos
ready to send to the UK Consulate General.
Yesterday, we made the journey up to Chicago for the day. In order to complete my application for my UK visa, I had to get a biometric scan. Evidently, by the way, the UK is the only country that requires this. Gotta love red tape! So anyway, it's a bit of a relief and really exciting to finally have that off and in process. It's pretty hard to believe we return to England in 3 weeks!!