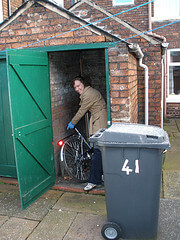 The other side of the road. One of the things I quickly and quite willingly got used to was cycling everywhere we went.  It has been great to be this active on a daily basis and be able to cycle to where ever it is we need to go.  I quickly got used to being right on the road with the other cars, since Leon took me down Scotland Road–a very busy road in the city–on the Wednesday we went to the OM office.  I was a bit uneasy about cycling in traffic like that, but soon discovered that drivers are very ok with cyclists on the road.  Plus, whenever there was a queue, we could generally skip it if there was enough room to get through on the side by the pavement.
Ok, so cycling on the road was great once I got used to the traffic and the cycle I had been borrowing.  The other factor that I had to take in consideration was riding on the left side of the road.  It was not too bad as long as I was making a conscious effort to stay in that lane whenever turning right or left.  I found myself thinking, "Left side of the road, left side of the road!" every time we would make a turn.  The other thing I finally caught on to by the end of my trip was looking right instead of left before crossing the street.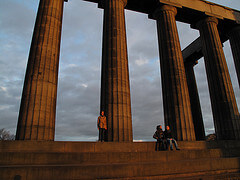 My favorite part of cycling in the UK was getting to tour around in Edinburgh.  What an adventure!  The hills may have been a bit much with my sprained knee from a day or two before, but it was a lot of fun to enjoy Scotland in all of its glory while on a cycle.  The most memorable part of cycling in Scotland was going to the top of Calton Hill to watch the sunset.  What an incredible view we had!
(That is me you see standing next to a pillar of the unfinished acropolis in Edinburgh.)