Ah, it's the time of year when we begin to count down until Christmas! As a child, I have memories of putting a little felt ornament on a tree my great-aunt made as a way of counting the days until Christmas. Each ornament represented some aspect of the Christmas story. My sister and I loved looking in each pouch on the tree every day to see what came next.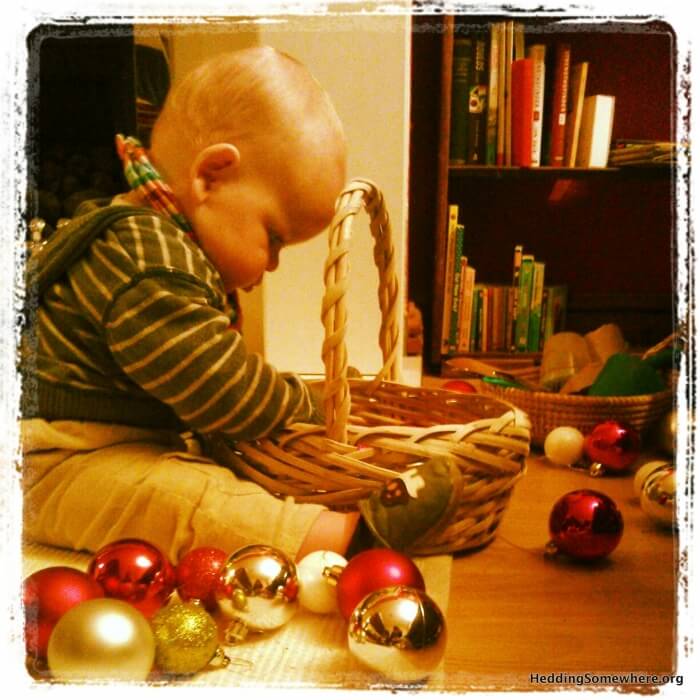 Aren't Christmas traditions lovely? I hope to create some over the years as Asher (and our future children) grow up. Last year, Asher was too young to appreciate or even remember what we may have done as a family to anticipate and celebrate our Saviour's birth. This year I'm hoping to start the tradition of talking about the real reason we celebrate Christmas.
I don't know about you, but I get tired of the focus on Santa/Father Christmas, having good behaviour so Santa can visit, and getting presents. It's not about that. Yes, they make nice stories. There's nothing wrong with giving and receiving gifts. Children need to obey Mum and Dad all year and not just in December anyway. So why that focus? Christmas should be about celebrating God's greatest gift—sending His Son as a baby so He could die to save us from our sins (but maybe you already know that part).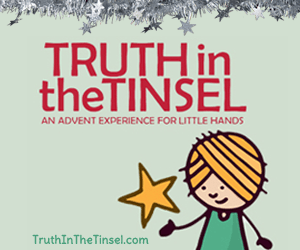 I'm really looking forward to celebrating Advent with Asher this year. He's a little older now, and he comprehends so much more than we realise. So we'll be going through Truth in the Tinsel: An Advent Experience for Little Hands this year! Each day leading up to Christmas has a part of the Christmas story to talk about and an ornament to make that corresponds to the story. Now, I know that a busy 20 month-old boy probably isn't going to be that interested in making ornaments every day for 24 days. One of the things I really like about this ebook is that there are alternative schedules. I plan on following one that covers the basics of the Christmas story since I don't think Asher will be able to understand all the aspects of the holiday yet.
If you need ideas for how to celebrate the Christmas season with your children, Truth in the Tinsel would be a good way to do that with your family! I imagine it would also be fun to do year after year as your kids get older, too. If you're interested, you can purchase the ebook here, or use the link in my sidebar. There are also printable ornaments available for those days when you don't have time to do the craft. There's a church curriculum and a Spanish version of Truth in the Tinsel as well!
I'm really excited about getting ready for Christmas! How about you? I know we'll be pulling out the decorations soon! :)
This post contains an affiliate link, which means I receive a small percentage of the sale if you purchase the product. For more information, please see my Disclosure Policy.