With social media and blogs, it's pretty easy to hide behind the lie that our lives are perfect. Behind the scenes, they're not. Asher throws tantrums and doesn't always obey us. Eva Joy struggles to fall asleep at bedtime. Leon and I have disagreements. We're not perfect by any stretch of the imagination.
Last week's photography lesson has been teaching me this. The assignment was more challenging than I expected, and I got imperfect images. It's tempting to delete all the imperfect photos and show off the beautiful ones, but to be honest there aren't many good photos this time. I struggled to get the right composition, light and exposure. (And when I did have them correct, Asher would run in the opposite direction!) These photos, to my disappointment, weren't very great.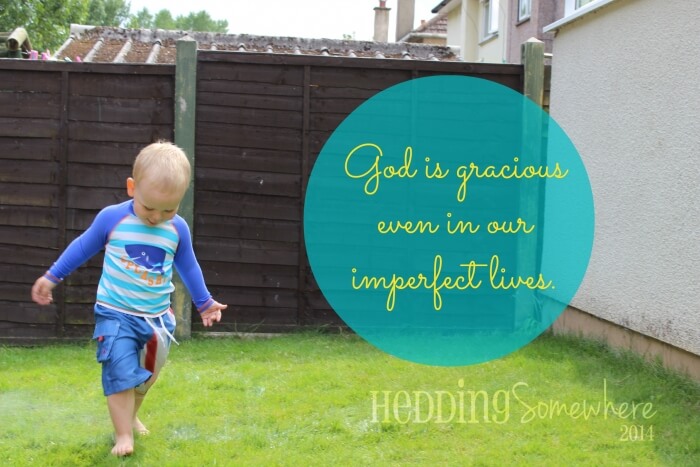 The truth is, life is never going to be perfect. We live in a fallen world. It's OK to mess up sometimes because that's when we have the opportunity to learn. The only way I'm going to learn photography is to look at my mistakes and learn from them. The only way I'll learn from the imperfections of life is to embrace them and learn from my mistakes.
I think this is also where God's grace comes in. He forgives us when we mess up! Shouldn't I forgive myself when I mess up? Sometimes I'm too hard on myself (even when it comes to critiquing my own photos for this class). But God is gracious, even in our imperfect lives.
So here you go. Photos captured from this week. The good, the bad, and the ugly, although not necessarily in that order. (Viewing this in your email or RSS reader? Click here to see the slideshow!)
(By the way, this week's photo assignment was to learn about shutter speed and ISO)
[wooslider animation="slide" slideshow_speed="5.0″ autoslide="false" smoothheight="true" playpause="true" pause_on_hover="false" slider_type="attachments" limit="8″]