At the weekend, Leon and I cycled the Sea to Sea cycle route. We had been excitedly looking forward to this ride since the success of our last ride to Skelton. Initially we had planned on making the journey across England the weekend before since we had a bank holiday on Monday. We unfortunately had to postpone until this weekend.
Boy, are we glad we did postpone our trip! We had nearly perfect weather as we started out near the Whitehaven harbour. We snapped the obligatory photo at the beginning of the route before setting off on our 136 mile journey to Sunderland.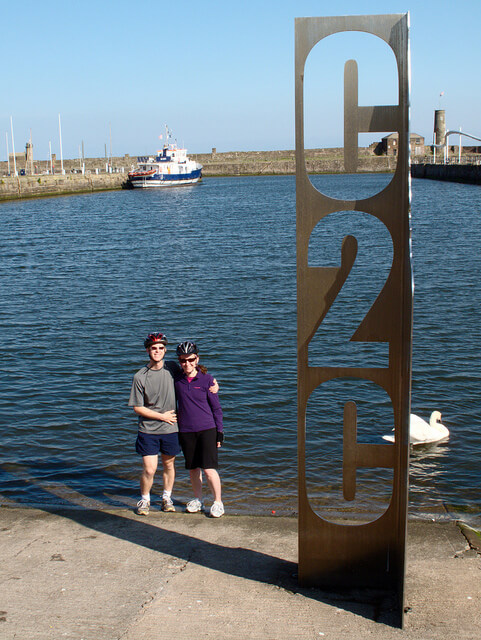 Starting with our feet in the harbour to properly go from sea to sea
The ride was certainly a challenge, but the weather and the sunshine made it enjoyable. I found it fun to continually pass the same people along the way.
Not far into our trip, I had been enjoying the scenery and dilligently cycling up hills when I looked ahead at Leon for a moment. His touring rack had completely broken off his bike! It was bad… it also pulled the rear mud guard up under itself and it was right up against the tyre. I've never seen anything like it.
Great… How were we going to get this fixed when we were a good 10 miles away from a bike shop? After taking all our kit off of Leon's rack, I came up with the ingenious idea to use his bike cable to hold the rack on. It worked! Mostly. The touring rack was still a bit wobbly, but at least it won't fall off. We could at least make it to Whinlatter, where we were able to get a new rack and have it installed!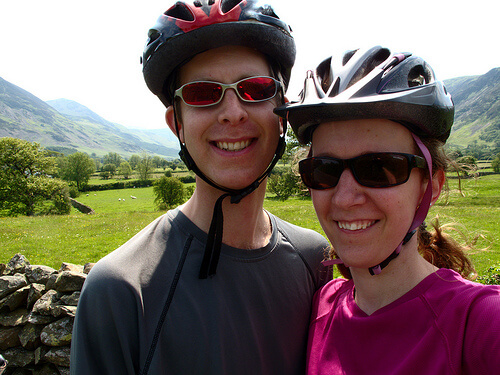 All smiles… just before Leon's touring rack snapped off his bike
Speaking of Whinlatter… What a climb! I have never had to cycle up a hill quite like that. It was, in a word, challenging. This was when I realised the trip was going to be more challenging than I had anticipated. It was honestly kind of discouraging to have to stop and see those we had passed before, passing us along the way up. We finally made it to the top of the pass, which also meant it was finally lunch time!
After waiting for Leon's bike to get repaired and eating lunch, it was back down the other side of Whinlatter we went. That was good fun cycling down a gravel road with switchbacks. :) I braked nearly the entire way down!
After Whinlatter, we cycled through Keswick to get another bite to eat before heading off to Dalemain, near Penrith, where we would stay for the evening at our friends' home. Boy, were we ever so glad to finally eat a homecooked meal and put our heads on our pillows!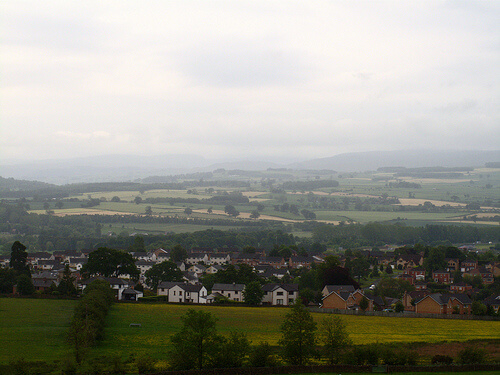 View of Penrith as we were leaving
The following day was even more of a challenge. Once we left Penrith proper, it started to sprinkle. Typical British weather. Already exhausted from the day before, I found it really hard to get up a lot of the hills, mostly because I would get out of breath too soon. We pressed on.
About 20 miles into the trip, we discovered that Leon's tyre was shredded. Not the tube, the tyre. We decided it was damage from the mud guard on the day before. After a kind cyclist stopped to help us, we patched up the tyre, replaced the tube and were on our way.
We stopped for lunch in Renwick and continued on. The next leg of our journey was going to be all uphill to Hartside. At this point we also realised that the prevailing westerly wind had significantly changed directions and was now blowing from the east.
At this point, the trip became significantly more difficult for me to press on. (We now think I have asthma, and this trip was enough to make me ring the doctor when I got home.) I gave it my best, but I was finding it more and more difficult for me to catch my breath. Leon says I was a real trooper for how long I did push myself. Eventually, once the wind became too strong to cycle forward, we made the decision to ring a friend of ours to come collect us and bring us home.
I was a bit relieved, and a bit disappointed as well. We did cycle half-way across the country, though, so we were encouraged by that. We have decided that we would finish the C2C cycle ride later this summer after I see my doctor and get my asthma (or whatever this is) under control. I think I can live with that decision.
While we were waiting for our friend to come pick us up, we stopped at a quaint tea room. Oh, did that tea taste good! We had a lovely conversation with one of the guys from the church who runs the tea room. He was an interesting gentleman (quite elderly man) who had been born in India and then lived all over. I enjoyed it.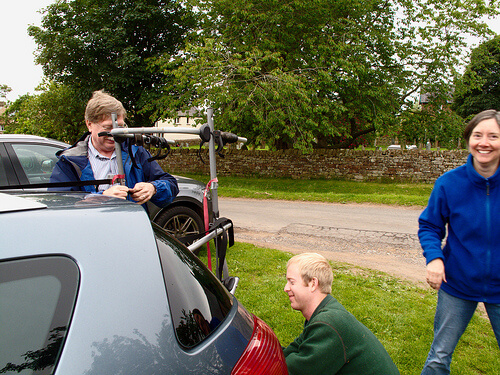 How many people does it take to put a bike rack together? :)
Our friends arrived to rescue us an hour later. After fumbling with the bike rack for about half an hour awhile, we were loaded up and headed back to Carlisle.
What a journey! I'm looking forward to finishing it later this summer!