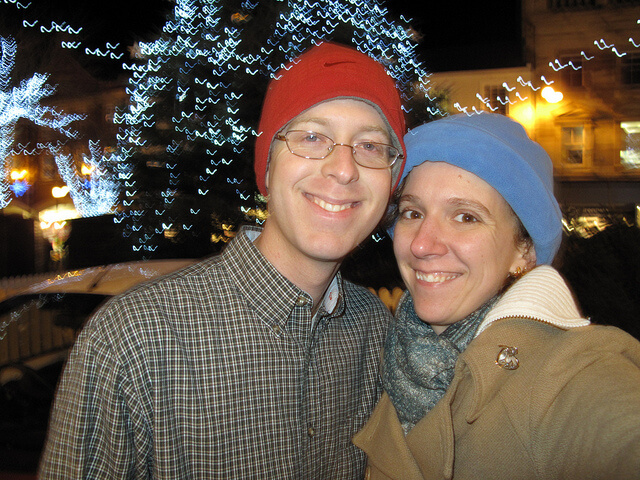 Us in the City Centre
Thanksgiving weekend has given us a very busy few days!
Thursday, Thanksgiving Day, Leon and I celebrated the anniversary of our first date. For those who don't know our story, it was on Thanksgiving Day last year that we officially started dating over the phone. I was in Kentucky and Leon was in Singapore. So we celebrated this year with a date night! I'm so thankful to the Lord for bringing Leon and I together. It's a joy to be married to my best friend!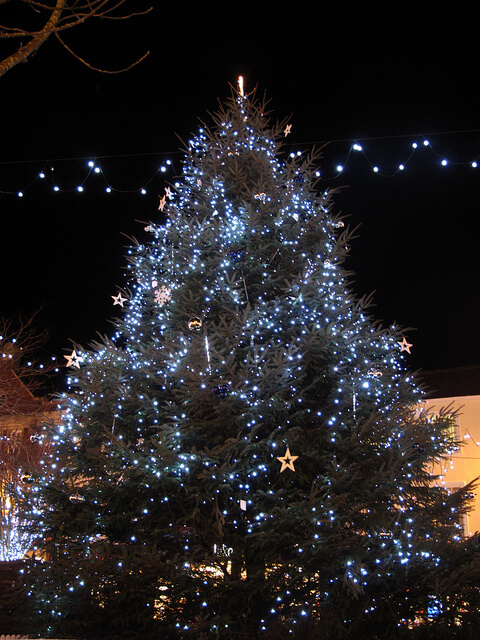 The City Centre is all decorated for Christmas!
We had a lovely dinner by candlelight, fruit for dessert, and then a walk to the City Centre for some Christmas festivities that were taking place. The City Centre was decorated for Christmas with lights. Santa and Mrs. Claus and some reindeer made an appearance. There was a carousel and circus performers for a parade. They also had a Christmas market of handmade items since Thursday was the official opening of the Christmas Market for the year. The big attraction was the snow machine they had brought in. Actually, Leon and I found it to be disappointing because all the machine blew out was soapy foam stuff that looked somewhat like snow. Little did they know we'd be getting the real stuff in a couple days!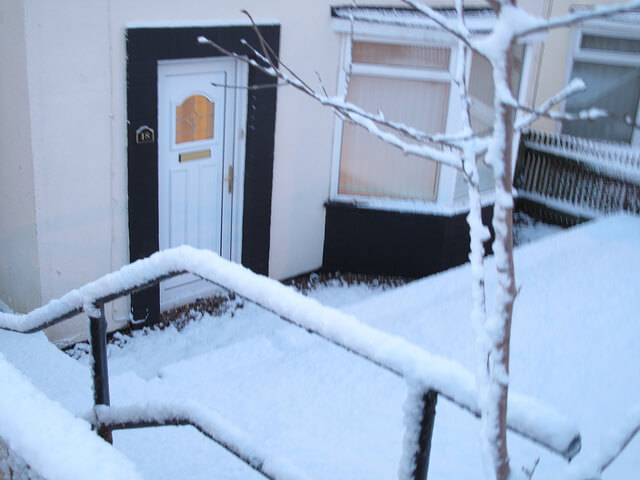 Our snow-covered front garden
Saturday morning brought quite a surprise! We woke up to find a couple inches of snow on the ground. I'm told this is rare for England, especially this area–I'm not convinced of this yet. But nonetheless, it was still lovely to be greeted by a blanket of snow on the day we were celebrating Thanksgiving.
On Saturday morning I had the opportunity to attend a ladies' breakfast with church. It was lovely to be able to connect with other ladies from our church. I hadn't realised how much I miss having girlfriends. I think I've finally learned that married women need girlfriends, too! I definitely enjoy fellowship with other women, and God blessed me with that on Saturday.
We also celebrated Thanksgiving on Saturday. There is an American family on the OM team who invited the Americans to celebrate with them. We thoroughly enjoyed the fellowship and stuffing our faces with lots of good Thanksgiving food. :) Leon and I got out with one other person for a walk around Rickerby Park just as the sun was beginning to set over the river. It was quite picturesque–I wish I would have brought my camera!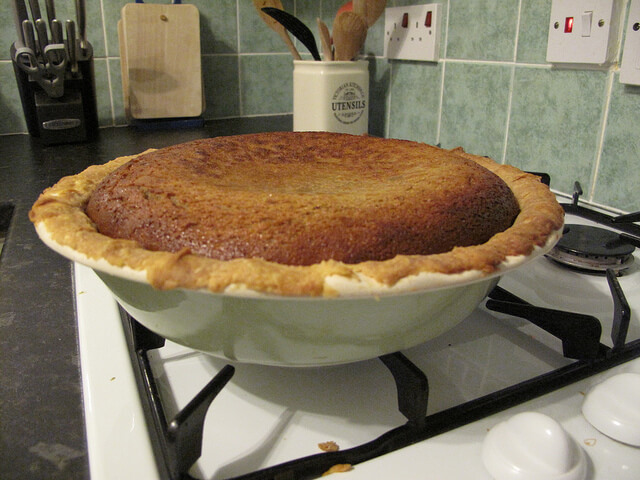 Leon made a delicious pumpkin pie!
We stayed around for the Thanksgiving celebration for most of the day. In fact, we were one of the last families to leave! It was nice to have a family to celebrate this family-oriented holiday with. It would have been more difficult for me to handle without a family to have a meal with. I can deal without Black Friday, but Thanksgiving is one of my favourite holidays!
So here we are at the beginning of another week! I wish I could say that this week will be less busy, but it's not. I love the hustle and bustle of the holiday season!