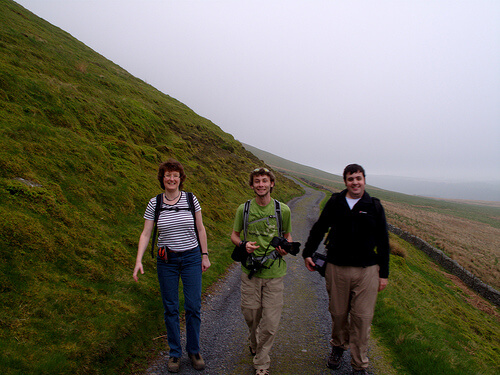 Andrea, Jay, & Andrew excited for our walk up Skiddaw
On Saturday, Leon, Andrea, Andrew, Jay, and I decided it would be a good day for a walk in the Lake District. The forecast all week had predicted lovely weather—sunny, cloudless skies, highs in the 20s (Celsius). We were excited about our walk up the north side of Skiddaw, the 4th highest mountain in England.
It had rained the night before. No big deal. The clouds were in the sky as well. Ok, they'll clear off eventually.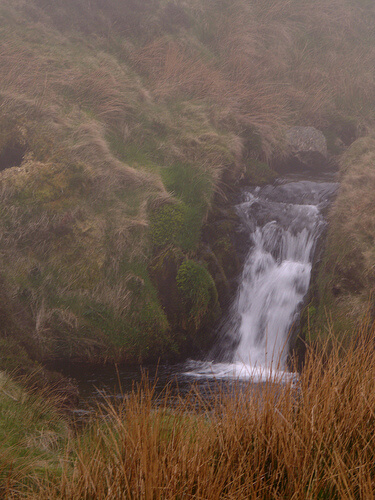 Waterfall
We began our walk and realised that the beautiful peak we were supposed to climb was covered in fog! We made the most of the walk up. Taking photos, enjoying each other's company, admiring God's amazing creation. When we reached the top of Bakestall (the peak we reached just before the Skiddaw summit), the fog even began to clear away a little bit. As we continued our journey, however, the fog rolled back in. It's incredible to see the fog roll in from that high in the air!
We stopped for lunch at the top of Skiddaw. Supposedly, you can see Scotland and the Solway from from the summit. Not so much today. Finally, the fog cleared away for about 5 minutes. Just long enough for us to enjoy it before we headed back down.
This is where our journey got interesting. We reached Skiddaw House, a youth hostel in the Lakes, sort of a resting point along our journey.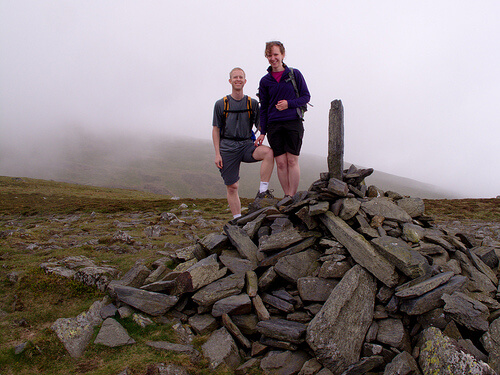 Leon and I on the Bakestall summit
At this point in our walk, our fearless leader and my darling husband got confused and lost our trail. So in an effort to get back on the trail, we finally decided the best thing to do was head due north. Through acres and acres of heather… and moss underneath the heather. The fog hadn't lifted, and it began to rain.
Probably one of the most challenging walks I've ever had in the Lake District.
So after walking for nearly 3 hours through the rain, fog, and heather, we found our trail again. Knackered, we walked a couple more miles back to our car.
Good thing we can laugh about this trip now. I'm even willing to go back and try it again… but only if there's no fog, and it doesn't involve walking through heather!
Who's up for another walk in the Lake District next weekend?!? :)