This weekend brought forth opportunities. Some opportunities were recreational while others were work.
On Friday we had the opportunity to celebrate the royal wedding of William and Kate in the City Centre (I'll be blogging about this later).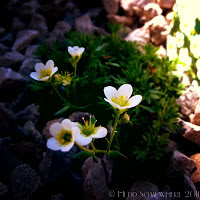 Some of the smaller flowers I planted
Saturday we took the opportunity to have a lovely lie-in, and didn't get up until nearly 10:30! It was so nice! Once we got going, I spent some time planting flowers in our front garden, and Leon cleaned up the paving stone in the back where tons of moss had grown. I'm personally excited to see how our front garden will look in a few months with the new flowers I put in… hope our little alpines (ground cover) do well in the rocks!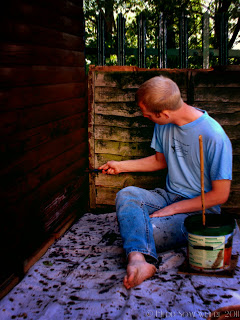 Leon staining our shed
Sunday we had the opportunity to attend a barbecue with our home group from church. It was a lovely day for a BBQ, and it was nice to spend time in fellowship with those in our home group.
Today, being another bank holiday, Leon was at home again. I took the opportunity to not get behind on my weekly tasks around the house, while Leon took the opportunity to stain the shed in our back garden. It looks very nice now!