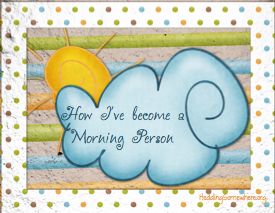 This post was intended to be a post on productivity, but somehow, I keep procrastinating writing it.
Ironic?
The truth is, I struggle with being productive every day—especially when it involves doing things I don't want to do. Doesn't everyone, though? Life certainly has its distractions. Sometimes I wonder if people struggled with being productive before the days of the internet, smart phones and social media. There were probably different struggles to face.
Having said that, here are some things that help me increase my productivity throughout the day. I don't know if I can convince you these tips help me be productive after I've said I struggle with being productive. They do, when I make them a priority! I'd be interested in hearing what helps you be productive in the comments.
Do the things you don't like doing first. For me, these are things like doing laundry, cleaning the bathroom and vacuuming the house. I've learned that if I do these things at the beginning of the week, I don't dread doing them all week. Doing the things I don't like to do first thing in the morning also helps.
Pick 3 major tasks to do each day. These tasks are usually outside of my daily list of things to do. For example, making phone calls to supporters, writing a ministry update and making a dish for the bring and share at church on Sunday might be one of my tasks for today. Three tasks are much easier to tackle!
Block social media sites in your web browser (or if you're really brave, turn off your computer or just leave Facebook all together). This has transformed my productivity! Facebook and Pinterest especially drain my time if I'm not careful. About a month ago, I discovered an add-on for Firefox called LeechBlock. It allows me to choose sites to block and set how and when they'll be blocked. I have blocked time-wasting sites for most of the day. Now that I've used it for a few weeks, I quite often will find other things to occupy my time even when LeechBlock isn't actively blocking those sites. YAY!
Don't be too hard on yourself when you don't get things done. Sometimes life happens and things don't get done. But that doesn't mean you're not productive! Leon has to remind me of this sometimes. I'll talk more about this subject in next week's post.
What things help you be more productive?