Everywhere we go, Asher likes to point out the lights. His favourite word has been "light" ever since his first birthday. It hasn't been recognisable as light, but you know what he's talking about. Over the months, it's evolved from "tuh" to "on," and now he occasionally says "off" when he sees a light (no matter if it's on or off!).
So I admit I was excited to introduce our first Truth in the Tinsel ornament to Asher because it was "light!"
I didn't have many expectations when I went into celebrating Advent with Asher this year. Yet it's still been a growing experience. After day one of Truth in the Tinsel, I realised I needed to simplify the lessons even more. This week's lesson got reduced to just, "Jesus is the light of the world." And the craft became more parent-directed instead of child-directed, which wasn't what I intended. I've had a lesson in patience, and my expectations for my 20 month-old were perhaps too high.
However, teaching Asher that "Jesus is the light of the world" this week has been such a joy! We have a little two-foot Christmas tree that we've been hanging his ornaments on, and almost every time he walks by he points to his light ornament and says, "on" as if he recognises that it's a light. (I usually respond with a reminder that Jesus is the light of the world.) I guess it goes to show that Asher is learning more than I realise.
While Asher's Advent lesson for the week was "Jesus is the light of the world," my lesson for the week was that a little bit of truth can go a long way with a toddler.
The people who walked in darkness
have seen a great light;
those who dwelt in a land of deep darkness,
on them has light shone. Isaiah 9:2 (ESV)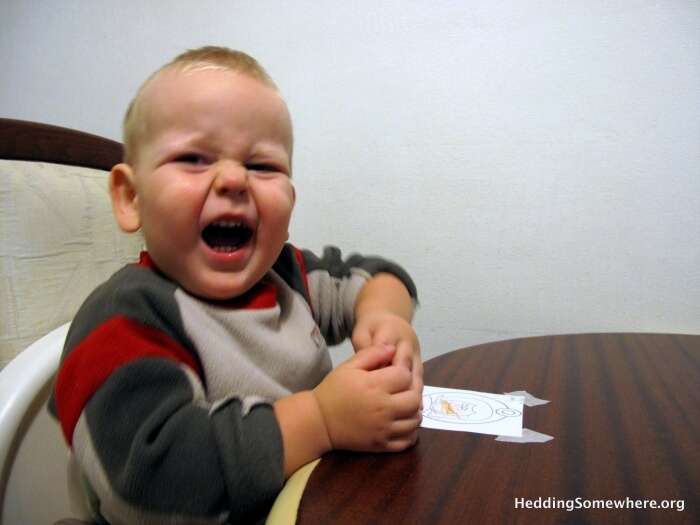 I'm looking forward to what the rest of Advent will hold!