Aah, the Christmas season. It tends to be a rather busy time as we try to get cookies baked for neighbours, go to Christmas parties, write Christmas cards to hopefully get them out before the holiday, buy gifts for family and friends, and decorate.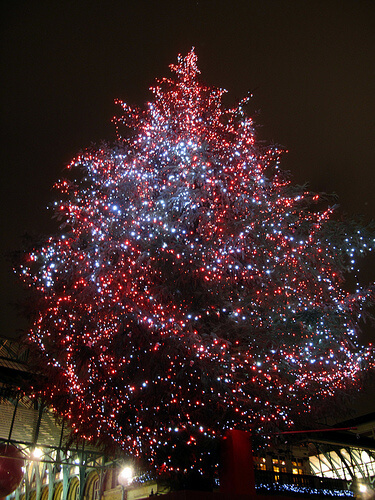 Christmas tree in Covent Garden, London
This is making me stressed just to think about all of this stuff!
What about the real reason we Christians celebrate Christmas? Where does Jesus fit into the busyness of the holiday season?
Last year Leon and I spent our first Christmas together as a married couple… our second since we've known each other. We haven't had a lot of time together to establish traditions. This was hard for me last year since it was my first Christmas away from my family. Our meagre beginnings as a couple have reminded me that it's okay to keep things simple.
For me, keeping things simple allows me to remember the birth of Jesus and why He came to this world. His entrance into the world was certainly not as glamorous or busy. God came to earth as a baby, only to be sacrificed for our sins on the cross! Wow, that's worth remembering!
So here's to a more simple Christmas this year.
How can you simplify Christmas this year? Or how have you simplified Christmas this year?