What a wonderful week of celebrating our Saviour's birth and spending time with family! This is my fourth Christmas in the UK, and every single one of them has been different. We've been away, gone to friends' on Christmas Eve and Christmas, and stayed home. There's nothing wrong with Christmas being different every year, but I am used to having a somewhat predictable Christmas growing up.
Our Christmas morning was filled with donuts for breakfast, reading the Christmas story, opening gifts, eating lunch and taking naps. Celebrating Christmas with Asher was a little more exciting than last year because he has started to get into the "magic" that seems to happen at Christmastime. Even gifts were exciting for him once he figured out he was allowed to rip the paper.
This year we once again celebrated Christmas on Google Hangouts with the Hedding family, only this time was a little more international than last year. We had Leon's parents, sister and brother-in-law, and aunt coming in from the US, our family coming in from the UK, Leon's brother and his family coming in from Nicaragua! It's pretty amazing that modern technology allows us to do that. It was a lot of fun to see everyone as they opened their gifts. After all our gift opening had been done, we stayed online with the family in the US so it was almost like we were there with all the hustle and bustle that family brings!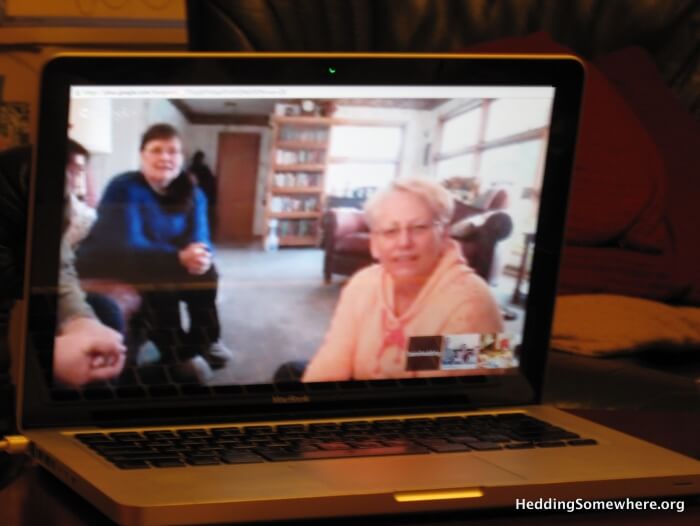 We like to surround ourselves with "family" during the Christmas holidays since we can't be near our own families. So this year we had the opportunity to have some friends around on Boxing Day! In England the day after Christmas is also a bank holiday (American English = public holiday) so the Christmas celebrations pretty much just continue until the next day.
Anyway, we had a couple of families around for dinner and fellowship. It was a lot of fun preparing a meal and spending time with one another. It's such a blessing to have "family" to spend the Christmas holidays with!